In 1980, OLLI opened its first Delaware location as the Academy of Lifelong Learning in Wilmington. Since then, the OLLI program has expanded to include campuses in each county, attracting thousands of members each year who are enriched by OLLI's stimulating academic environment and social opportunities. 
Many early members included the institute in their estate plans, sustaining and strengthening OLLI's future with support to innovative programs, capital improvements and scholarships to provide access to more members. Inspired by this generosity, the Osher Lifelong Learning Legacy Society launched in 2018 to celebrate all who support the future of OLLI in Delaware by including a specific OLLI campus or the statewide program in an estate plan. 
There are a variety of gift plan options to achieve philanthropic intentions beyond wills and trusts, including naming OLLI as a beneficiary of a retirement account or life insurance policy and more. For a full listing of options and additional information, visit What You Can Give or call Nathana Jackson, Director of Gift Planning at the University of Delaware, at 302-831-6093 or email ndlane@udel.edu.
To make an outright gift to OLLI, please click here.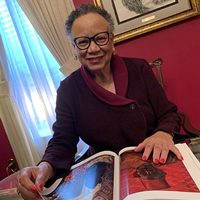 Karen M. Ingram has repeated this sentence numerous times… "When I introduce folks to the Osher Lifelong Learning Institute-Wilmington (OLLI-W), I refer to it as a 'Treasure.' OLLI-W is a one-of-kind educational center for everyone, and people will find their jewels once they enter Arsht Hall.  It is the place for me."