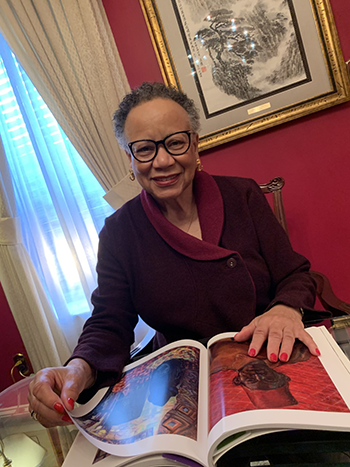 Karen M. Ingram has repeated this sentence numerous times… "When I introduce folks to the Osher Lifelong Learning Institute-Wilmington (OLLI-W), I refer to it as a 'Treasure.' OLLI-W is a one-of-kind educational center for everyone, and people will find their jewels once they enter Arsht Hall.  It is the place for me."  
Karen has taken classes at OLLI's Wilmington location at Arsht Hall since 2017. She multiplied her friendship base with brilliant friends, acquired knowledge that sparkled, and immersed herself in a stress-free learning environment, with no tests or grades, papers to write, or required attendance. She praised Larry Peterson, a retired University of Delaware professor, for introducing her to OLLI-W. They met for lunch and he recruited her and a friend to attend OLLI-W. Although Karen had heard about OLLI-W through several friends, she did not expect the overwhelming welcome she received from the members and staff, and she knew she made the right choice to join.
During her first three semesters, Karen enrolled in five classes per week and was very involved in the life at OLLI-W. Upon appointment as chair of the Diversity and Inclusion Committee, serving on OLLI-W Council and the Strategic Planning Committee in addition to the marketing, nominating, and ambassador committees, she decided to reduce her class schedule and focus her energy on committee work. Not only did she attend classes and meetings, she taught the game of bridge on Friday afternoons.
Because of Karen's community engagement work, the Diversity and Inclusion Committee introduced OLLI-W to more than 100 people, and many are now sustaining members. When talking with Karen, it is apparent that she loves being at Arsht Hall, meeting friends, attending interesting classes and events, and refreshing previous skills. 
Last year, when Karen revised her will, she designated Osher Lifelong Institute as a beneficiary of her estate. She said, "I know there are folks who are unaware of the OLLI-W treasure and perhaps a gift from my estate will benefit them and OLLI-W."
In addition to her bequest to OLLI-W, Karen made an equal bequest to the University of Delaware's endowment to benefit the Center for Black Culture. She commented that she wants her gift to sustain the mission of the Center, so students will develop their identities and appreciate the Black experience through education, experiences, and activities. Karen's sister, JoAnne (1973) attended UD, and there were times when their parents were unable to assist JoAnne with necessary finances to make campus life worry-free. In honor of JoAnne and her brother, William, Karen made the contribution to enable the Center to flourish.
Karen remembers a testimony that was made at their father's funeral. A woman described how her father "helped the large family by bringing food when the refrigerator and cabinets were partially bare."  Karen's father was employed by Campbell Soup and TV dinners and variations of soup were plentiful. Her father was also a barber, and often, he would cut the patron's hair for free. Karen's role model shared his wealth and talent, reached back to his community and was thankful for his blessings.
While Karen is taking only one class at OLLI-W this semester, she is also enrolled in UD's Master of Art and Liberal Studies program (MALS) and will graduate with a master's degree, simultaneously with a Graduate Certificate of Community Engaged Scholarship in 2024. Karen enjoys learning and sharing her knowledge with other people and at age 75, she is considering pursuing a Ph.D.
Karen added, "The University of Delaware has enriched my life in so many ways, and I am extremely grateful to the staff and faculty at both institutions for my jewels.
"I hope the readers of this article will pause and reflect on what it could mean for students to have easy access to funds, so they may enjoy the treasures of Osher Lifelong Learning Institute and/or the University of Delaware. Your legacy will make a difference."
If you would like to learn more about how to establish your own legacy at the University of one of OLLI's campuses, please email mccantal@udel.edu or call 302-831-3822.