The Great Depression was a dark time forever remembered for widespread unemployment, failing banks, and poverty worldwide. But Elizabeth "Libby" Scheuerman, EHD33, persevered through the struggles to achieve her academic dream at the University of Delaware, earned her education degree and went on to shape young minds as an educator and a leader. 
Scheuerman's teaching career touched lives both in Delaware and Florida, where she eventually resided. Always an advocate of education, she helped develop the first Bookmobile in Broward County, Fla., and served as president of the Florida Division of the American Association of University Women. Never forgetting her First State roots, in 1969 she organized "Delaware Day" as an opportunity for transplanted Delawareans to gather and stay connected in Florida. The tradition continues to this day. Scheuerman was also responsible for bringing together Blue Hens at UD alumni events in the Sunshine State. This spirit and passion gained the attention and appreciation of the University, leading to her receiving UD's the Outstanding Alumni Award in 1983 and the Medal of Merit in 1989 for her efforts. 
Giving her time to the University evolved into philanthropically giving back. Scheuerman supported many areas of UD throughout her lifetime, culminating in a transformative gift from her estate after her passing that had a tremendous impact on Delaware First: The Campaign for the University of Delaware, UD's comprehensive engagement and fundraising campaign.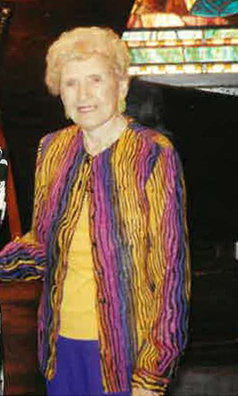 Working with her attorney and University staff, Scheuerman finalized a gift from her estate in 2009 for a total of $5.5 million that would touch nearly every facet of UD, highlighting her passions that would benefit Blue Hens for decades to come. 
Savvy in real estate, Scheuerman established an endowment to assist students in the Lerner College of Business studying the business of real estate. She was adamant about supporting students and when she laid out the plans for her scholarship, said, "I am especially pleased to provide for this scholarship because I believe in the University, and I believe that education can make all the difference in an individual's life."
An avid swimmer most of her life, part of her estate gift was designated to the new Whitney Athletic Center, the University's new holistic hub for student-athletes to learn, train and stay healthy. Her gift was specifically dedicated to quiet space in the building where student-athletes can devote uninterrupted attention to their studies in between competitions and practice.
Scheuerman's gift also benefitted the nurse-managed primary care clinic on UD's award-winning Science, Technology and Advanced Research (STAR) Campus. Furthermore, she established graduate fellowships in seven areas within the University's internationally acclaimed art conservation program.  Her bequest also supported construction of the Harker Interdisciplinary Science and Engineering Lab, a 194,000-square-foot facility that brings together students and faculty from various disciplines to teach, learn and conduct research in a collaborative environment.
Scheuerman passed two years after documenting her intentions, but her legacy lives on at UD in these areas that meant so much to her.  
"The University was able to explain to me how the scholarship would work and sent me the details about how to provide for the gift in my will," Scheuerman said in 1991. "It was a fairly simple process, and I feel fortunate to be able to provide for the University through the gift."
Estate gifts can allow a donor the opportunity to craft a transformative plan benefitting UD and other favorite charities that may not be possible during one's lifetime. In addition to the most common gift of a bequest within a will, there are various plans that save taxes for the donor or their heirs and others that can provide a source of income.   
For more information on how the power of an estate gift can benefit the Blue Hen community for generations to come, contact Nathana Jackson, Senior Director of Gift Planning at ndlane@udel.edu or 302-831-6093.
About the Campaign
Delaware First: The Campaign for the University of Delaware was publicly launched on Nov. 10, 2017. The comprehensive engagement and fundraising campaign unites Blue Hens across the nation to accelerate UD's mission of cultivating tomorrow's leaders, creating solutions to grand challenges, inspiring innovations and transforming lives. The united effort will help create an extraordinary student experience at UD and extend its impact on the region and the world.
Building on the record-breaking support and generosity evidenced by the Campaign, on Oct. 7, 2021, the University announced the extension of Delaware First with a $1 billion goal to further fuel change and innovation for students, faculty, campus and the world.
For more information, call 302-831-2104 or email campaign-info@udel.edu.