Jim Faller and Katy (Eliades) Faller survived childhoods in war-torn Greece during the 1940s. Through the sacrifices of others, namely their parents, they returned safely to America and went on to achieve their educational and professional goals. They've invested in the education of Blue Hens to allow them those same opportunities and will leave a legacy through their estate to ensure their generosity will live into the future.
Life in Occupied Greece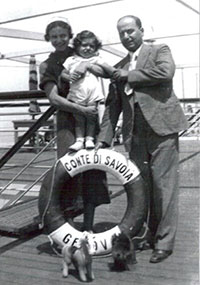 The story of Jim's and Katy's time in Greece reads like a movie script, full of hardship, perseverance and sacrifice. Heroes and villains. Survival and escape.
The Fallers had planted roots in Wheeling, WV but in the 1930s the family returned to Jim's father's native Greece, leaving the family business in the hands of a relative. At the same time, Katy's mother, whose family was also originally from Greece, left her hometown in Wilmington, DE to marry John Eliades, a high school science teacher in Greece with whom she'd been corresponding for years. The couple had planned to move to America after Katy was born, but that was not to be.
The two families, who had not known each other previously, were united in Greece by their American roots and the English language, which was spoken primarily by the family matriarchs since the children grew up speaking Greek. A friendship formed between the mothers and eventually bonded the two families. As children, Katy and Jim were constant companions until John Eliades' teaching career advanced, causing the family to move to another town closer to his job. 
As hostilities around the world escalated, the window to safely return to America closed. Jim's father, like many others in Greece, didn't heed warnings from the U.S. Embassy to vacate the country. World War II then exploded and raged for years as both families went without and were perpetually hungry (to this day, Jim and Katy bear the bumpy scars of malnutrition from that time). The Faller family was better off than Katy's, as his father had been relatively prosperous in America. Jim's father owned the only Model "T" Ford in Megalopolis. That Model T – as visible reminder of their prosperity – eventually ended up, useless, hidden on blocks in their tiny garage. The family eventually cut up the tires to make shoes. However, the Fallers' perceived fortune, and the fact that his family were Americans, brought unwanted attention from both the German military and the opposing Communist guerillas surrounding the town.
Jim recalled that before the war escalated, his family was required to house German officers. At the beginning they were simply Greek Americans housing Germans. During that time his family once hosted lunch for a German major – the highest-ranking officer to reside with them. The major spoke English and although Jim didn't understand the language at the time, he still remembers sitting at the table while his parents conversed with the officer.
After the attack on Pearl Harbor, that relationship changed to Occupier and Occupied. Most of their German "guests" did not speak English or Greek which deterred any conversation. They never stayed long and most kept their doors unlocked while out of the Faller home. When desperate for supplies, Jim's mother would "borrow" the officers' soap so the family could use it before she would carefully return it to its original owner without their knowledge.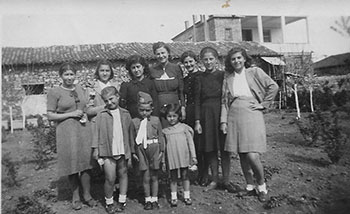 At the same time, civil war ensued. Guerillas of the Democratic Army of Greece – the euphemism Communists used to deceive the public — fought for revolution, targeting those deemed wealthy, like Americans living in Greece nicknamed "Brooklyn" regardless of where in America they were from. Jim's father likely avoided death as one night he ignored an invitation to "take a stroll" with local insurgents who conducted their violence outside of town due to the presence of military inside the limits. Because of the threat, when the Germans and Italians withdrew from his town, the Faller family moved to sanctuary with family in the city of Athens. Katy's family had already moved to a different town.
Violence surrounded them on all sides during the occupation. Jim remembers walking to church through the public square where the Germans would conduct hangings. Ironically, the Fallers' cordial association with the Germans ended up forging somewhat of a buffer with the guerillas. One day, two women from the village visited Jim's mother, pleading for her intervention with the Germans to spare the life of a village boy who had been captured and was scheduled for execution. "I still don't know what my mother said," Jim recalls, "but the boy was released."
Later, when food became scarce, a donkey carrying food was sent down from the guerilla encampment in the hills. Although he never knew for sure, Jim suspects it was sent in gratitude by the young boy's older brother, who was a leader in the guerilla army.
That gratitude did not hold out. Jim's father, while venturing outside their sanctuary with relatives, disappeared for six months. They didn't know where he was and later learned he had been captured by the Communist guerillas and imprisoned in Athens with political prisoners. Fortunately, British troops were able to free the prisoners from the Democratic Army and relocate them to safety in a British-held city in Ethiopia. Jim's father eventually reunited with his family in Athens. 
With the war finally over, America began recovering its citizens. Since Jim's family were Americans, they were able to return on one of the first ships. Katy and her American-born mother were permitted to return before her father, a Greek citizen. He eventually returned and left his career as an educational administrator in Greece to start all over again in Wilmington, DE, working as the bookkeeper for a small Greek-American produce company. Fortunately for the Fallers, the family movie theater in Wheeling, WV, had been in the hands of a relative, and upon his return, Jim's father restored it to prominence until the advent of television forced it to close.
Reuniting in America
While Jim and his family (including a sister born in Greece) lived in West Virginia, Katy's family had moved in with her grandmother in Wilmington, DE. The two stayed in touch through the years and dated while Katy was pursuing her bachelor's degree in education at University of Delaware. Shortly after Katy's graduation, they married, and she embarked upon a long and rewarding career in the Christina (DE) School District, her love for teaching young children evident. Jim, who already held a bachelor's degree in engineering from West Virginia University, enrolled at UD where he earned a Master of Chemical Engineering followed by a Ph.D. in applied science.  The bulk of his diverse and rewarding career involved working for government research and development organizations as a senior research engineer with studies focused on the physics of failure of materials and materiel systems (i.e., military tanks and vehicles). In 2018, Jim was honored by University of West Virginia and inducted into its Academy of Chemical Engineering.
During the Vietnam War, Jim analyzed helicopter component failures at Boeing, and was nominated Pennsylvania Industrial Scientist of the Year. He served on the visiting faculty of the U.S. Naval Academy and worked for the U.S. Army Ballistics Research Lab as well as the Naval Research and Development Center, serving as an advisor on submarine materials to a member of the House Armed Services Committee. Prior to retiring from the U.S. Army Aberdeen Test (ATC) Center Jim was in the positions of chief of the chemistry lab and as team leader of modeling and simulation. He co-developed a sensor to assess potential skin burns in explosive environments and patented a mechanical gauge for high pressure measurements in gun tubes. He remains active in local Hellenic associations, particularly Holy Trinity Greek Orthodox Church in Wilmington. Residing in Newark, the Fallers also continue to enjoy UD's athletics and cultural offerings.
Giving Back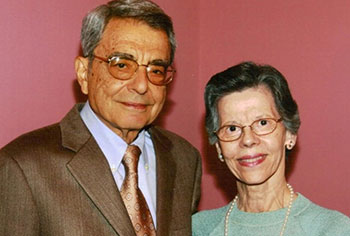 Katy and Jim and their families survived the war in an occupied country surrounded by violence. As children they weren't always aware or appreciative of the sacrifices and decisions their parents made to ensure their safety. The two went on to pursue degrees and careers in professions that fulfilled them, and like their parents, want to help to secure the future of others, in this case, college students who, essentially, are strangers to them. As avid champions of higher education, Jim and Katy founded a series of scholarships at University of Delaware supporting a variety of disciplines. And, this generosity extends beyond their lifetimes, as their wills include charitable gifts to University of Delaware that will further benefit their established scholarships plus Blue Hens athletics facilities. Through these combined legacies, they will ensure others' dreams will be achieved and careers launched for generations to come.
"Philanthropy is the only thing we can leave behind, and the scholarships are an inheritance and a way to continue our family's legacy," Jim said. "Even after we are no longer remembered, our names will still be connected to the University and the scholarships will continue to make a difference." 
A recent recipient of one of the Fallers' scholarships said this of her benefactors' generosity: "To know that donors value my education as much as I do makes me feel empowered to take advantage of all the wonderful and helpful resources University of Delaware has to offer. I am grateful for this scholarship as it has enabled me to focus on my education without financial burden on me."