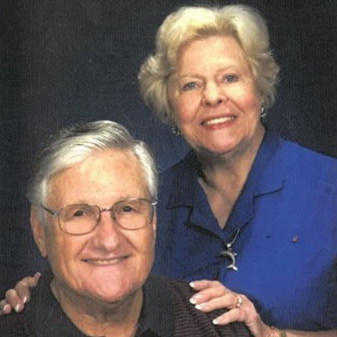 James Paulk was a native Georgian enrolled at the United States Naval Academy when he met the love of his life: Patricia "Pat" Metzler (AS57), who was attending the University of Delaware.
There was only one problem: Pat was hard at work pursuing her education and absolutely was not interested in starting a relationship with anyone.
"I met Pat and couldn't believe it," he recalled. "She knocked me for a loop. She had this aura about her—it was unbelievable."
When Jim was introduced to her, he discovered they were both getting past recently ended relationships and she wasn't looking to find someone. She was an engaged Blue Hen – being a member of the water ballet team, president of the Young Republicans and spending summer breaks teaching physical activities to children at camp. 
To win over Pat, Jim would certainly have his work cut out for him. 
"Pat knew what she wanted in her future. She had very high standards. I'm not sure why she picked me," he said with a chuckle.
Upon returning to Annapolis, Jim tried to convince Pat to visit him. After many exchanged letters and phone calls, it was the enticement of a dance that changed her mind. Pat loved to dance, and at the time the U.S. Naval Academy (USNA) was renowned for hosting the top bands in the country.
The two agreed to meet on the steps of the USNA's famous Bancroft Hall, which is still considered the largest dormitory in the world. Jim was afraid he might not recognize her, but Pat – ever the planner – wore her UD sweatshirt to ensure he couldn't miss her. 
"She was absolutely gorgeous. Beautiful inside and out," said Jim. "I thought, 'that's gotta be the girl I've got to marry'."
After Pat's third visit to Annapolis, the couple knew they had something special. Time flew by, and the summer after his midshipmen cruise, Jim met her family in Pennsylvania and brought her to Georgia to meet his family. During his junior year they formally pledged to one another at a pinning ceremony, and, by his Ring Dance (a momentous tradition at which a midshipman gets his class ring, which then is dipped in waters from the seven seas) they were engaged. Pat graduated from UD the week before they were married.
Jim and Pat made many wonderful memories in their years together. Recently, Jim penned a book, Swimming For Our Lives, about many of their adventures, including when the members of the chart-topping band The Platters personally invited them to a concert and meet-and-greet. 
Throughout all of the adventures and experiences, Pat's time in UD's College of Education and Human Development (CEHD) and the resulting lifelong friendships remained special to her. It was her fond memories that inspired her to give back to UD.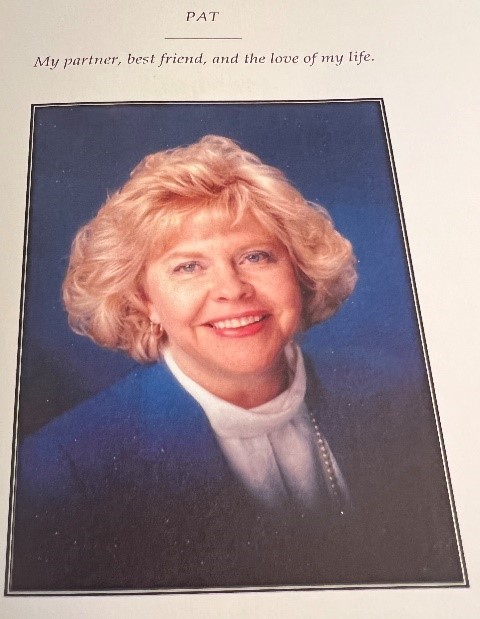 "We talked about it before she died, and we each wanted to leave part of our IRA to our respective institutions. So we set up a scholarship in CEHD at UD," Jim said "The important thing to keep in mind is that they have an opportunity to take a minimum amount out of an IRA at a certain age. Depending on what tax bracket you're in, you can take money out to go into your checking account on a regular basis, but if that's more than you need, donating to charity reduces the taxable amount. It's an easy thing to do; a heartwarming thing to do. I'll continue giving as long as I'm alive and hope my kids will keep giving."
Although in 2017 he lost his beloved Pat after almost 60 years of marriage, Jim still feels like she's going to walk into a room and place her hand on his shoulder just as she always did. Knowing that her memory lives in perpetuity through the scholarship in her name at UD gives him comfort. 
One of the students who has benefitted from the scholarship sent Jim a note of appreciation. She wrote that before the scholarship she worked several part-time jobs to help with expenses. The Paulks' generosity allowed her to reduce the time she spent working to focus on studying and as a result, her grades improved. 
"And Pat would be absolutely delighted to hear that," said Jim.
If you are interested in learning about how to make charitable gifts to UD from IRA accounts, please call 302-831-3822.